About Us
Afous Moroccan and Spanish Tapas serve a unique combination of Moroccan and Spanish cuisines. Our menu includes dishes such as Grilled Baby Octopus, North African Zaater Bread, Grilled Scallops, Calamari Fritos, Carrot Salad, Potato Aioli, Garlic Prawns, Lamb Brochette, Marinated Eggplant Salad, Moroccan Meatballs, Spiced Lentil Potato Cake, Fish Tajine, Merguez Du Afous, Saffron Rice, B'stilla, Seafood Paella, Sweet Lamb, Beetroot Salad, Tortilla de Potatoes and many more. If you want to have a different kind of dining experience, visit us at L1/81 ParriwiRoad, Mosman NSW. We offer dine in, delivery, pickup and online ordering services on a daily basis.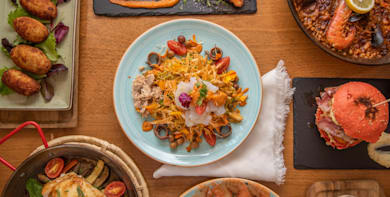 Menu
Beetroot Salad (GF)
Served with an orange dressing.
$11.50
Marinated Carrot
In a paprika and lemon dressing.
$11.90
Marinated Eggplant (GF)
In a parsley and garlic vinaigrette.
$14.90
B'stilla Fingers (2 Pcs)
Layers of crispy filo pastry, filled with fragrant almond chicken, infused with rose water, cinnamon, delicate orange saffron sauce.
$15.90
Garlic Mushroom (GF)
Sautéed mushrooms with mix herbs and garlic.
$16.90
Grilled Haloumi (3 Pcs) (GF)
With mixed berry coulee, roast pine nut and honey mustard dressing.
$21.90
Lamb Brochette (3 Pcs)(GF)
Back strap marinated in cumin, paprika, garlic, extra-virgin olive oil and herbs.
$22.90
Moorish Sardines (GF)
Pan-fried sardines served with Moroccan tomato salsa.
$17.90
Calamari Fritos (GF)
Deep fried baby calamari and lemon aioli.
$23.90
Grilled Baby Octopus (GF)
Marinated with parsley, feta, garlic and lemon.
$23.90
Grilled Scallops (4 Pcs)(GF)
With corn salsa and light chilli and prawn oil.
$24.90
Garlic Prawns (5 Pcs)(GF)
Cooked in fresh herbs and garlic.
$19.90
Moroccan Meatball Tajine (GF) - Main
Cooked in our tomato chermoula, green peas and poached egg.
$29.90
Spiced Potato and Lentil Fritters
Served with pumpkin puree, almonds and harissa aioli.
$24.90
Berber Vegetarian Tajine (GF)
Seasonal baked stewed vegetables in a tajine with fresh herbs.
$28.90
Saffron Chicken Tajine (GF)
Cooked with preserved lemon, saffron and olives.
$31.90
B'stilla
Layers of crispy filo pastry, filled with sweet almond chicken, fragrant rose water, cinnamon and served with a delicate orange saffron sauce.
$28.90
Fish Tajine (GF)
Baked tajine of fish fillets marinated in chermoula with vegetable, olives and preserved lemon.
$35.90
Sweet Lamb Tajine (GF)
Slow cooked lamb shoulder in rass el hanout, prunes and garnish almond and boiled egg.
$33.90
Seafood Paella (GF)
Traditional Spanish rice dished cooked with mixed seafood and green peas for 2 People.
$62.90
North African Za'atar Bread
$7.90
Marinated Olives (GF)
In Middle Eastern herbs and spices.
$8.50
Afous Dips
Homemade three dips served with bread.
$15.90
Moroccan Harissa (Hot Chilli Paste)
$4.90
Selection of Seasonal Vegetables
$8.90
Orange Blossom Panna Cotta
$13.50
Crema Catalane
baked sweet custard topped with a crust of crystalized sugar.
$13.90
Moroccan Semolina Cake
Cake with lemon curd and lemon sorbet.
$15.00
Afous Chocolate Pate
Served with caramel sauce and ice cream.
$15.00
Mineral Water (750ml)
Italian Pininfarina Lauretana
$9.90
Contact Us
Find Us
L1, 81 Parriwi rd, Mosman, 2088
Opening Hours
Tuesday
6:00 PM - 9:00 PM
Wednesday
6:00 PM - 9:00 PM
Thursday
6:00 PM - 9:00 PM
Saturday
6:00 PM - 9:00 PM
Please note, delivery times may vary.
We deliver to
2088 Mosman